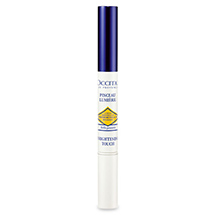 As you know, Daylight Savings begins Sunday, March 9th! What? Already? Many of us dread setting those clocks forward and loosing an hour of beauty sleep, but fear not – L'Occitane, Sensai and Mio have revitalizing and rejuvenating products to help you look your very best as you leap into spring.

NEW! L'Occitane Brightening Touch Targeted Corrector: In a simple brushstroke, the Brightening Touch Targeted Corrector helps to conceal spots, blemishes and signs of fatigue while its active ingredients (Bellis perennis and Vitamin C) help unify and brighten the complexion. The combination of Bellis perennis and Vitamin C work together to unify skin tone and make skin appear to glow from within.


Sensai Cellular Performance Recontouring Lift Essence: A powerful essence that delivers a clearly defined facial contour to areas of the face that is sagging or puffy. It improves the water metabolism of your skin to redefine your face line. Your skin will be more lifted-up, firm and taut.


Mio QuickStart: An exhilarating guarana shower gel to wake up mind and body. It's the surefire way to kickstart your day after losing an hour of sleep.