Summer may be a hazy memory, but unfortunately those pesky post-summer sun spots aren't. La Roche-Posay is introducing 3 new products this month to help with dark spots and discoloration – a dark spot correcting serum and moisturizer, plus a redness correcting CC cream! Attached are press materials on the new products and I can send high-res images. Let me know if you have any skincare stories coming up, would love to be considered!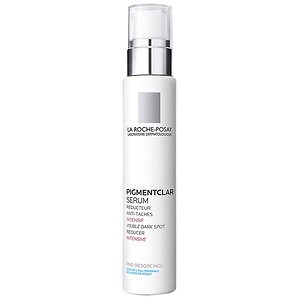 La-Roche Posay PigmentClar Intensive Dark Spot Correcting
Serum: This unique serum contains a set of ingredients that visibly corrects dark spots at all stages of their development: underlying, visible and recurrent. In just 8 weeks, dark spots are reduced by 39% and 82% of women experience a more even skin tone.
La-Roche Posay PigmentClar Daily Dark Spot Correcting Moisturizer: An amazing product to combat those pesky dark spots. It moisturizes, corrects and help prevents visible dark spots, all while formulated with Broad Spectrum UVA/UVB protection SPF30 for long term prevention. Another benefit? The moisturizer is also fast absorbing leaving a matte, non-greasy finish.
La-Roche Posay's Rosaliac CC Cream: The first over-the-counter redness-correcting CC cream. Its unique texture is engineered to give instant coverage because of its revolutionary blend of red, white, yellow and black pigments. It is also enriched with amazing ingredients to provide correction of visible redness day after day. There is a 24% reduction of visible redness on bare skin in just 8 weeks!