With the Fourth right around the corner, we can't help but embrace our patriotic side by celebrating with some all-American beauty. These products, nourishing us from head to toe, are all American-made, good-for-you formulas that'll have you covered wherever your holiday travels may take you, from coast to coast and anywhere in between. Burt's Bees' headquarters in North Carolina and founded by beekeeper, Burt Shavitz; Clark's Botanicals' from New York, a father and son skincare line, formulated after an accident causing a magazine editor to be paralyzed; and Sun Bum created in Cocoa Beach, Florida with a shining focus on sunscreen and protection
!
Burt's Bees Renewal Firming Day Lotion with SPF 30
Founded in Maine and with headquarters located in Durham, NC, Burt's Bees is a true representation of American-made. And this Summer, take some of their newest launches and fan-favorites on the road.
Their NEW Renewal Firming Day Lotion SPF 30 is a lightweight, fast-absorbing moisturizer that has clinically shown to help improve firmness and reduce the appearance of deep lines and wrinkles. Powerful natural anti-aging ingredients help restore the appearance of your skin's smooth, firm texture, while natural broad spectrum SPF 30 protects against sun damage.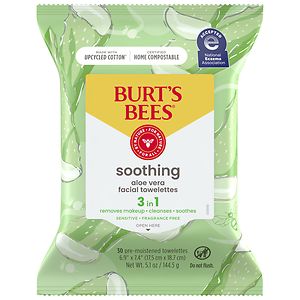 Sensitive Facial Cleansing Towelettes with Cotton Extract
The Sensitive Facial Cleansing Towelettes with Cotton Extract takes one simple step, they kindly remove your make-up, while cleansing and toning your skin. Lovingly created with Cotton Extract to soften your skin, Rice Extract to moisturize and Aloe to soothe, each natural towelette is as gentle as gentle can be.
Burt's Bees Vanilla Bean Moisturizing Lip Balm
Their Vanilla Bean Moisturizing Lip Balm is a luxuriously complex and comforting lip balm bursting with all-natural vanilla. Couple that with moisturizing Shea Butter and soothing Vitamin E, and you've got a true treat for happy lips.
Clark's Botanicals Age Defying Radiance Cream
Founded by New York native Francesco Clark following a freak accident that left him paralyzed, Clark's Botanicals is a Collection of premium products and luxurious formulas.
Francesco's Age Defying Radiance Cream is the equivalent of applying instant glow filler to your skin. With 18 active ingredients your skin will be left feeling youthful and satin smooth.
Clark's Botanicals Skin-Clearing Face and Body Wash
Cleanse and exfoliate your skin of any impurities with this Skin-Clearing Face and Body Wash, the refreshing jasmine absolute extract will help soothe and heal your skin.
Sun Bum Continuous SPF 70 Spray
In 2010, Sun Bum created a new high quality lifestyle brand of sun care products specifically formulated for people who live and love in the sun. Sun Bum is a small company in Cocoa Beach, Florida that makes a serious sunscreen you can entrust to protect our very own kids, spouses, and friends.
The Continuous SPF 70 Spray is an easy to use, ultra-sheer/dry touch continuous spray formula will protect your skin from harmful UVA/UVB rays while enriching your skin with Vitamin E, an antioxidant that helps to neutralize free radicals, which are the main cause of premature skin aging.
Sun Bum Beach Formula Sea Spray
Our Beach Formula Sea Spray protects your hair from the elements while giving it extra body, waves, and texture for that beach windswept look. The lightweight formula enhances strand separation and definition, instantly blocking humidity that causes frizz.
Happy 4th!