Did you know over 29 million people in the United States suffer from Diabetes, with 8 million of those being undiagnosed? According to the American Diabetes Association, diabetes can affect all parts of your body including your skin, which can sometimes be one of the first signs of the illness. With Diabetes Awareness Month underway and World Diabetes Day around the corner (November 14th) – learn about the common symptoms caused by diabetes, like itching, and how they can be treated with Curél Skincare!
Stop itch before it starts during your morning shower with Curél Itch Defense Body Wash. This powerfully calming, hydrating and fragrance-free cleanser breaks the pattern of itch and lavishes on calming moisture that contains an innovative blend of cleansing agents mild enough for serious dryness and itchy skin!
Get instant relief from itching, irritation and flare ups with Curél Itch Defense Instant Soothing Moisturizing Spray! This non-medicated, moisturizing spray instantly relieves dry, itchy skin with cooling hydration. The uniquely soothing formula delivers a mix of light yet potent hydrators to ease parched, itchy skin where you need it most.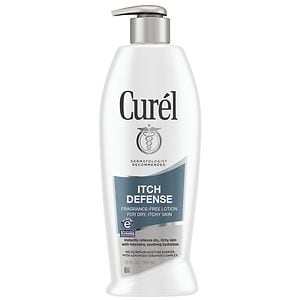 Combat itch all day long with Curél Itch Defense Calming Lotion. This moisture rich formula helps relieve dry, itchy skin and control flare ups as you rebalance pH levels, moisture levels and cellular turnover for healthy skin. Dermatologist recommended and pediatrician tested, this calming lotion soothes itchy, dry skin while being gentle enough for babies 6 months and up!