Halloween is just a few short weeks away. Whether this year's costume is spooky, sexy, or silly, applying some makeup is bound to happen – and this holiday is not the time to hold back. Halloween night is the perfect opportunity to be bold, daring, and have some fun with beauty!
Here are fabulous beauty picks from D A P H N E, LASHFOOD, La Roche-Posay and Dermalogica that will help prep for and create any look that'll last all night – no matter what mischief you get into. Also below are gentle-yet-effective products that will wash away even the toughest makeup whenever the night is over.
DARE TO BARE
D A P H N E ilovesugar: This technique uses a paste made from lemon, sugar and water, which removes hair in the direction of the hair growth and does not involve conventional waxing strips. Traditional Sugaring is not offered by most sugaring studios in NYC, although the method has far more benefits than common strip sugaring. The benefits of traditional Sugaring include: bacteria resistant, Does not adhere to live skin cells, results in minimal discomfort and irritation, safely removes hair from the follicle, helps eliminate ingrown hairs, is safe for sensitive skin conditions, and provides superior, healthy, hairless results!
D A P H N E French Sudatonic Slimming and Detoxifying Body Wrap An infrared blanket is used with Sudatonic creams to flush toxins out of the body. There is notable improvement in skin texture, weight loss, reduction of cellulite, and diminished stretch marks. This relaxing wrap burns an average of 1,500 to 3,000 calories.
GET LASHES SO LONG, IT'S ALMOST UNNATURAL
LASHFOOD Conditioning Collagen Lash Primer: This ultra-rich lash primer contains lash extending, thickening microfibers to instantly stretch and extend the look of lashes, and collagen to boost volume. Formula works as a daytime nourishing lash mask conditioning lashes with nano-peptide complex to promote lash vitality. Lash base also features micro-thickening natural lash fibers to instantly achieve the look of false lashes and maximize the result of any mascara. The large, soft wand flawlessly combs and separates lashes and simultaneously improves the look of natural lashes with each stroke.
ACHIEVE YOUR SEXIEST CAT-EYE YET… MEOW
LASHFOOD Chamomile Makeup Eraser Pen: Ideal for instantly perfecting brow and eyeliner mistakes, the Eraser Pen is strong enough to remove waterproof formulas, but is infused with chamomile and vitamin E to soothe sensitive skin.
PARTY ALL NIGHT
BROWFOOD 24H TRI-FEATHER BROW PEN: A three-pronged pen to create feathered brows easily and precisely with a liquid formula. Infused with a nano-peptide complex to support brow rejuvenation. The natural color lasts for up to 24 hours of continuous wear, with no fading or smearing! Available in shades Dark Blonde, Taupe, Brunette, Dark Brunette and Charcoal. Formulated without parabens, sulfates and Phthalates.
TAKE IT OFF
La Roche-Posay Micellar Water Ultra: A new and improved formula designed to cleanse the skin better than ever! With benefits of traditional Micellar Water plus new key ingredients, the new Micellar Water Ultra deep cleans the skin of impurities, including microscopic pollution particles, and removes even the toughest makeup while leaving the skin perfectly cleansed without rinsing. Now formulated with Glycerin, a moisturizing agent that naturally attracts water to the skin, the gentle cleanser actually hydrates skin while dirt-encapsulating micelles naturally lift oil, pollution and even 99% of 24 hour foundations. The new water-like formula is oil-free and non-comedogenic so it won't cause breakouts.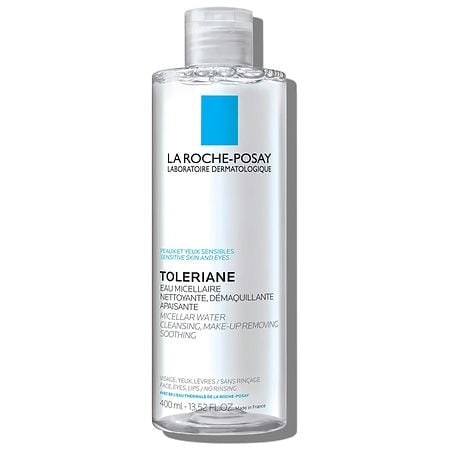 Dermalogica PreCleanse Balm: This water-activated formula that transforms from a balm to oil is an innovative take on Dermalogica's iconic, top-selling PreCleanse Oil. Ideal for normal to dry skin types, PreCleanse Balm features a Natural Biolipid Complex that locks in hydration and reinforces the skin barrier while Apricot Kernel Oil helps nourish the skin – AND it comes with a double-sided, ergonomically-designed mitt for enhanced cleansing and exfoliation! PreCleanse Balm can remove almost anything, including waterproof mascara, long-wear foundation, sunscreen, lipstick, eyelash glue, hair removal wax, and costume make-up!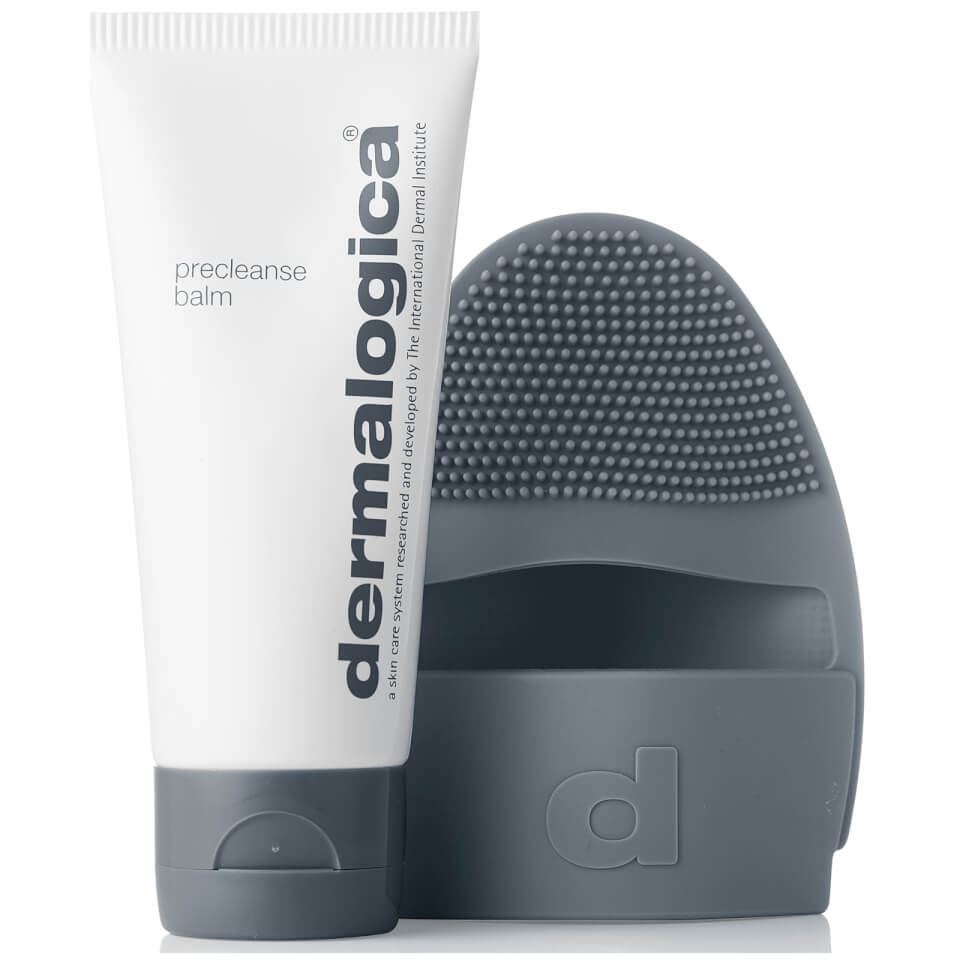 How It Works:
Step 0: Apply PreCleanse Balm to attract and dissolve the layer of buildup that typically blocks your regular cleanser from doing its best work. Dispense the balm onto the cleansing mitt or directly to the dry palm of your hand. Massage into dry skin. Add water to emulsify and transform the balm into a lightweight cleansing milk. Rinse.
Step 1: Apply your Dermalogica Cleanser to remove any leftover traces of PreCleanse Balm and impurities for a professional level of clean. Skin is left soft, nourished and ready to receive the benefits of your regular skin care regimen.